About Us

Principal, Ms. Judith Haughton
Dear Swenson Family!
I wanted to take this opportunity to introduce myself and welcome you to the Swenson Family! My name is Judy Haughton and I am the newly appointed Principal of Swenson Arts & Technology High School. Although I am the new "official" principal, I am not new to Swenson. I have served as the Interim Principal for this past year and was the very proud Assistant Principal of Swenson from 2018-2021. Before coming to Swenson, I served as an AP at several district schools, a school climate manager, a discipline/truancy liaison, a dean of students, and a teacher for many years. I am very proud to say that my entire career has been here in the City of Philadelphia! I grew up and was educated here in Philadelphia. I am proud to be a Philadelphia native. (I bleed Eagles Green and I am desperate for playoff baseball!)
At Swenson, we believe in these four A's:
"Attitude, Attendance, Appearance & Ability! In that order!"
Have a great attitude! Come to school every day on time! Look like a learner! And use your ability to do your best work!
We consider Swenson to be the absolute best CTE high school in the Philadelphia area! You have made the best possible choice for your high school career. Choosing a CTE high school and Swenson, in particular, is going to make a positive difference for your future college and career options.  Our mission is to make sure you have everything you need academically, socially, and emotionally to succeed in high school and well after high school.
Please know that every staff member here at Swenson has your back and is in your corner, starting with me! We are a family and as such we always back each other up.  We may not always agree, but we all have a voice and are able to use our voice to advocate for ourselves and our needs. We must do this in responsible and respectful ways and I encourage all members of our community to reach out to any staff member including myself if you have questions and/or concerns. It is important that we communicate and even over-communicate!
I look forward to meeting our new students/families at Freshman Orientation in August and all students and families on Back-to-School Night in September. (Dates & Times coming soon!)
Be safe! Be careful! Look out for one another and take care of each other!
Sincerely,
Judy Haughton
Principal 
Swenson Arts & Technology High School
For more information, please follow us on Facebook, Instagram, and Twitter
---
Assistant Principal, Mr. Huie Douglas III
Please click letter to read.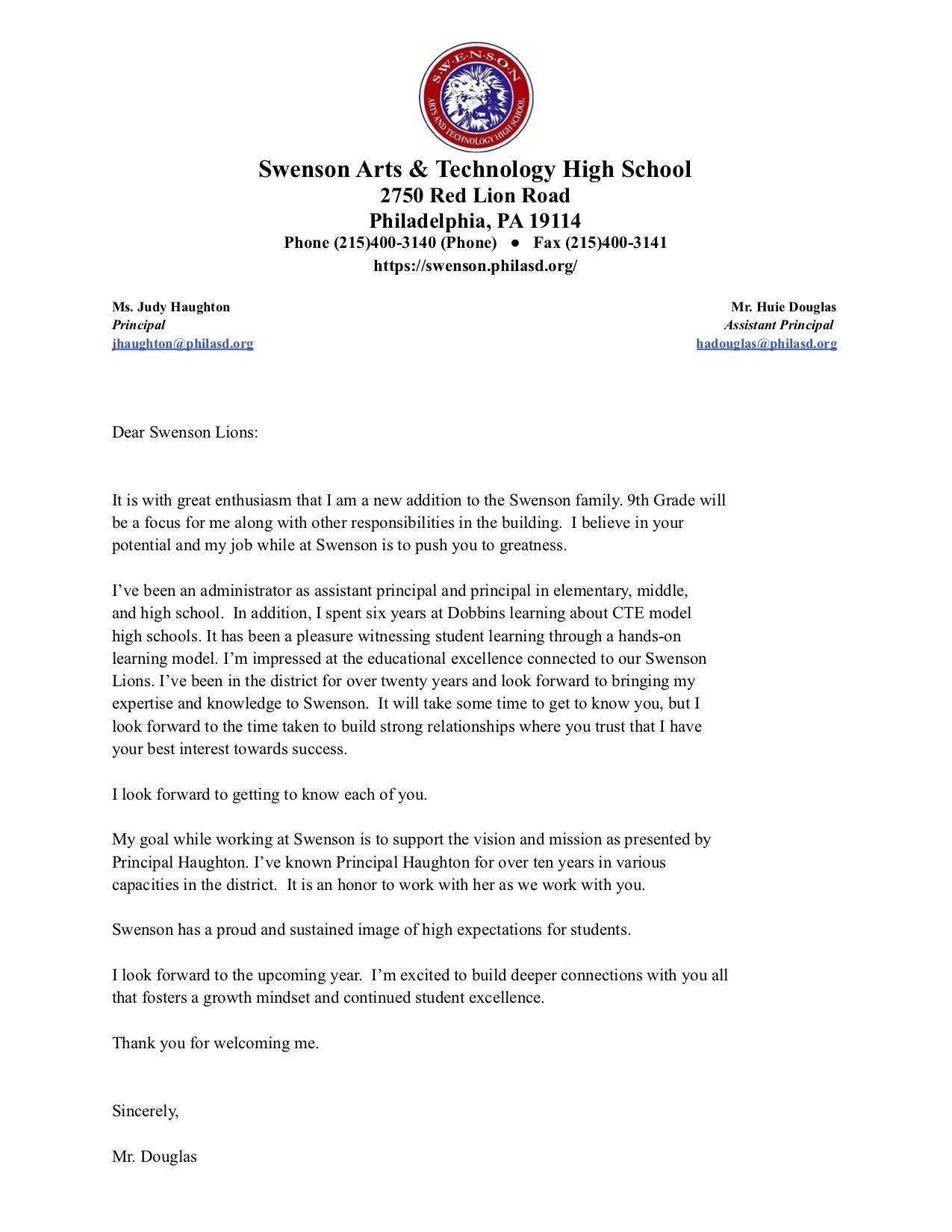 ---
 
Shared Values
All stakeholders are responsible for maintaining the shared values of Swenson Arts and Technology High School.
1. Expectations For A School of Excellence:
a.    Swenson Arts and Technology High School's focus is to maintain high expectations that challenge all students to realize their creative potential both academically and vocationally.
b.    Swenson Arts and Technology High School expects all students to demonstrate exemplary skills through their chosen Program of Study. Working cooperatively to creatively solve problems utilizing innovative technologies prepares our students to become leaders in our technology driven and culturally diverse society of the 21st Century.
c.     Instructional practices and programs will be evaluated continuously and modified as needed to ensure that all students excel academically and vocationally.
2. Expectations For Professional Practice:
a.    All staff values the integration of Academics with Career and Technical Education standards and competencies. We are committed to integrating 21st century "soft skills" and technical skills into our instruction.
b.    All staff members are dedicated to the implementation of a successful Project Based Learning Environment that utilizes a standards-driven curriculum.
c.  All staff members understand that students come to us with a myriad of strengths and challenges and instruction is differentiated to address students' diversity.